Accelerate your cloud migration and modernization journey with our AWS Migration Competency team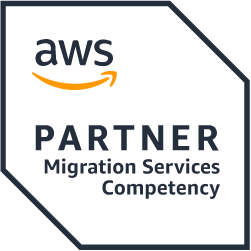 EXPERTISE
Assess, plan, and migrate safer and faster
Our Migration Practice is a compound of three fundamental pillars that help us provide our clients with the most appropriate migration strategy for their needs: assessment and strategy​, tools​, and education.​ We provide business expertise, migration and modernization tools, and highly qualified resources to perform fast and safe migrations to the Cloud.
CAPABILITIES
Our Expertise in AWS Migration
Rehost
Also known as "Lift and shift" is the process of migrating an exact copy of an application or workload (and its data store and OS) from IT one environment to another—usually from on-premises to public or private cloud.
Replatform
Applications are moved to the cloud without major changes, but taking advantages of benefits of the cloud environment, for example, containers, ALBs and autoscaling.
Refactor
Applications are modified to better support the cloud environment. Apps or databases run on the infrastructure of your cloud provider. A complete re-architecture and paradigm changes are required, for example, moving a monolith app to microservices using
METHODOLOGY
The Migration Process
AWS approaches large-scale migrations in three phases: assess, mobilize, and migrate. This migration strategy is designed to help organizations efficiently migrate tens, hundreds, or thousands of applications and see business results faster.

How can we help you?
IO Connect Services is here to help you by offering high-quality cloud technology solutions