Retailers demand rapid access to tech solution that integrates resale platforms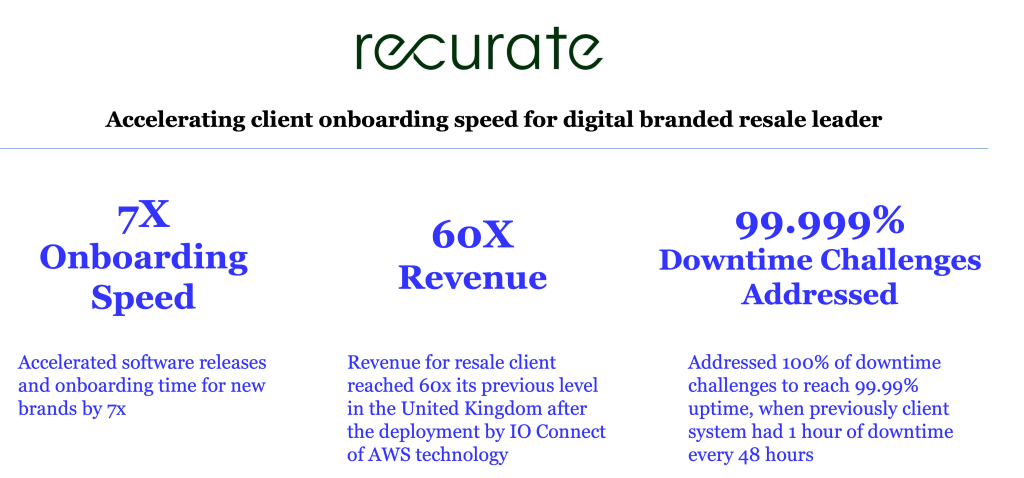 The retail market has grown even more competitive recently, with e-commerce becoming commonplace. According to the National Retail Federation, retail sales in 2023 are projected to grow around 5 percent. Compare that with the 26 percent growth expected in the resale fashion market alone this year. It's no wonder that a business idea focused on helping brand retailers capture the lucrative resale market took off.
Recurate, a tech company based in Washington D.C., wanted to help retailers capitalize on the growing opportunities in resale. Its founders combined their experience in retail and technology to create a cost-effective and easy-to-implement solution for today's brands.
However, once the idea emerged, Recurate found that demand accelerated faster than its existing infrastructure could keep up. It was time to move to the cloud, allowing it to rapidly scale its tech solution and meet the needs of its growing customer base.
About Recurate
Recurate's solution allows retailers to establish integrated resale platforms directly on their e-commerce sites. Founded in 2020, Recurate wanted to make resale easier for brands and customers, which could significantly reduce their environmental impact. The company set out to create the technology required to make resale easy and profitable.
Challenge
As a successful Series A startup, the business found its portfolio of clients growing so fast that it faced increasingly aggressive deadlines.
Recurate's original solution was a self-managed, semi-monolithic containerized solution that required constant server rebooting and manual scaling for proper operation. As a result, any customized feature for one client could negatively affect the speed and performance of the entire system.
The company needed to find a way to quickly add more and larger clients to its portfolio
Solution
Although Recurate's initial architecture leveraged SaaS to execute some of its early use cases, the company knew it would eventually need to migrate to AWS, which offered the required scalable infrastructure, hosting services, and application integration required. Recurate decided to work with IO Connect Services to create the necessary solution to grow.
The cloud experts at IO Connect reviewed Recurate's current solution, its requirements for the future, and approaching customer deadlines. They determined that building a new AWS solution would deliver the rapid go-to-market strategy Recurate was seeking to reach its potential.
IO Connect created a foundation that delivered all the static requirements for customers with placeholders that could be customized for dynamic needs. The completely serverless, cloud-based infrastructure allowed native integration with other services, saving significant development time in the long run.
This system allowed every customer to function independently from one another, which shortened the onboarding of new tenants and the maintenance of the system significantly, speeding up new client onboarding 7X versus previously. In addition, functionality testing could be performed in isolation, allowing the rest of Recurate's customers to operate normally.
Results
Recurate's new AWS cloud-based system isolates every customer, meaning customers do not share data access or compete for server limits and other resources. This also increases security as these silos prevent access to Recurate's system from any single vulnerability.  Customers can easily optimize out-of-the-box features and create unique configurations e-box features and create unique configurations easily without affecting other tenant accounts. The solution addressed 100% of the downtime issues the system previously had. The system previously had downtime of 1 hour out of every 48 hours.
Since workloads were designed to function in a serverless environment, all the generated code focused solely on business needs rather than infrastructure or other non-business-related functions. Project delivery was on time despite aggressive deadlines and last-minute changes.
The AWS system allows each customer to handle more than one thousand transactions per second, improving the overall user experience for current clients. In addition, Recurate was able to onboard three new premium global clients with custom requirements in less than a month
this task would have taken several months using the original system.
Recurate's solution is also GDPR-ready for the European market, and its multi-account flexibility allows the organization to provide faster, local service in many regions. The solution was deployed in the UK market for one Fortune 500 retail client, whose business opportunity provided 60 times the revenue versus before the solution was deployed.
By bringing a holistic perspective to the table, IO Connect has helped position Recurate for future success in the rapidly growing resale market.